Drinks and Fun:Night Out in Taipei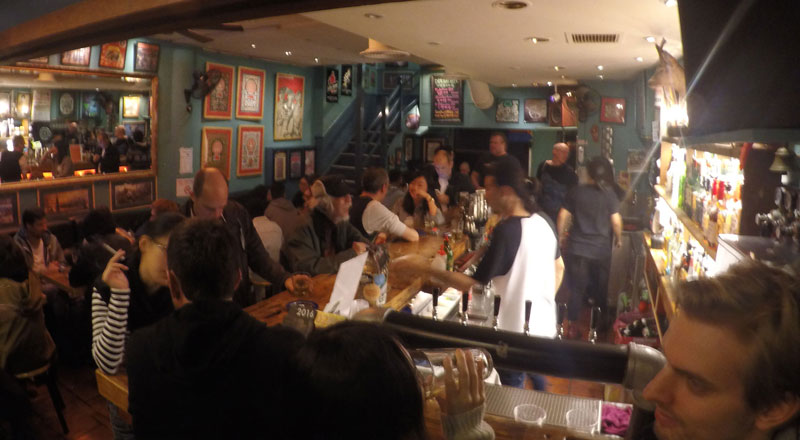 Let me guess, you go up to the front desk to ask "Hey, whats there to do here at night" and all the answers you get here are "nightmarkets." You get it, you all love nightmarkets, but three nights in a row is kind of enough and now all you really want is just a nice bar where you can get some drinks, meet some people and chillax! I mean, is that too much to ask for?
Well its not. You're not alone.
Here's the deal. In Taipei we love to drink and have a good time. But the way we drink is slightly different. The idea of just doing nothing but drink and talk with strangers doesn't quite register with the locals. Normally people want something ELSE to go with the drinks. Therefore for a good night of fun, most people either drink at a Beer House (啤酒屋aka Seafood Woks 快炒店 or 海產店) where plates of food are available, live-houses where people can watch performances while holding something in their hand, or private boxes of Karaokes. Therefore if you're looking for an official bar district, forget about it. Most bars are spread across the city instead of a clear and concentrated bar district where everything is easy accessed.
That being said there's been a quite drastic change in lifestyle as bar culture has become more trendy in recent years. In terms of areas one can enjoy some drinks, we can basically break the city down into three large areas: Eastern District (aka Dong Chu), Xinyi District, and Heping East Road.
Get ready to google away!
TAIPEI SOHO: EASTERN DISTRICT
Eastern District isn't actually the name of the district but a very specific section of the east side of the city between Zhongxiao Fuxing station and Sun Yat-sen Memorial Hall station. In the alleys one can find trendy design shops and amazing themed resturants of all kinds. At night, it is also a great area all kinds of cool bars are available, which is why TourMeAway set our very own PUB CRAWLthere every Saturday!
One can start off over at Tasting Room which has 20 different types of craft beers brewed locally and the menu changes everyday, a really authentic hangout for people who appreciate the art of brewing. For some of the best cocktails in town, try no further than Intention. Legend has it that the bartender, who also happens to own the joint, can mix any kind of cocktails known to man which explains why no menu is provided in the bar. There's also AQ Cava, the most economic shots bar in town that serves shots IN BOXES for an average price of 50NT per shot. A must-visit if you're with a huge crowd.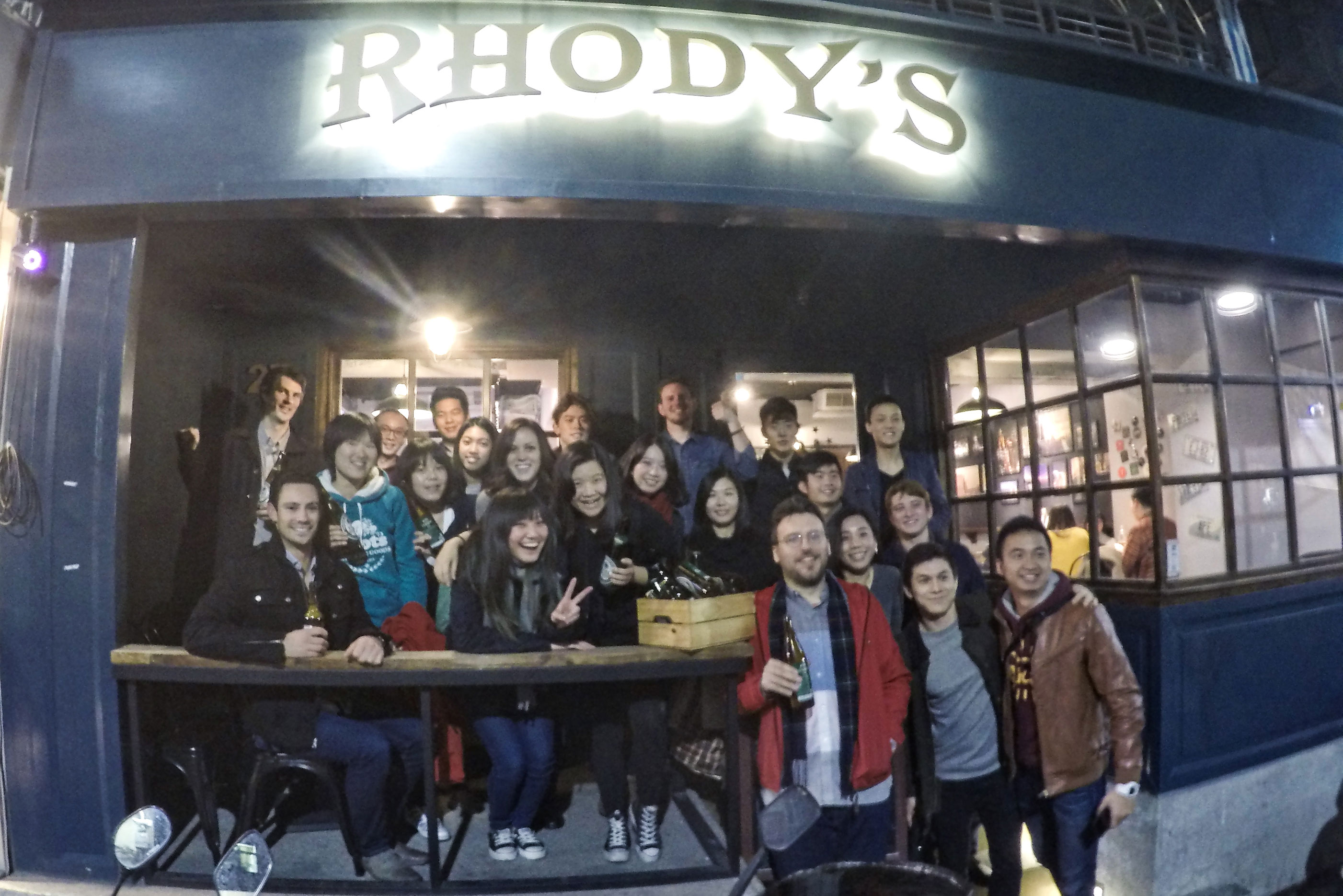 CHILLAXING WITH STYLE: XINYI DISTRICT
Xinyi District is known to locals as that large area surrounding Taipei 101 that's packed with state-of-the-art hotels, malls, and cinemas. It's also the most concentrated area for night clubs such as Myst, Room 18, Lava, Wave Club…etc. We'll find time to dig deeper into the clubs as we're focusing more on pubs and bars in this article. Since Xinyi is also more international and touristy, prices tend to be higher than usual. That doesn't take away the fact that there are still quite a bit of nice joints to hit.
Both Marquee and Barcode are premium bar lounges that one can find with top-notch services and exquisite view of the city. For some excellent prohibition-style speakeasies, you can hop over to Alchemy or Ounce for some classic choices of whiskeys and cocktails. If you want to keep the budget lower and looking for just a good ol' fashion predrink hangout, look no further than perhaps the most well-known bar in the city, Brass Monkey. It's got loads of event going on every night: sports broadcast, salsa nights, ladies Nights, happy hours, and even Language Exchange can be discovered here.
STUDENT CENTRAL: HEPING EAST ROAD
Last but not least, Heping East Road. Since it's home to two major universities in the city (NTNU and NTUE), the bars here are relatively cheaper in price and more laid back in nature. There's Roxy Rocker, a rock bar in the cellar for music lovers alike. It's enormous floor space is divided into three part, a cafe with awesome open classic record collections, a bar, and the dance floor. 45 Pub is this amazing attic bar located right above a Chinese medicine shop. It's one of those hole-in-a-wall joints with a strangely familiar Irish pub woody atmosphere with great selections of tap beers and liquor alike. HideOut is also another…well… hideout where one can enjoy couple of beers but also serves as an exotic hookah bar. And then we have Fucking Place (no, really, that's it's name, look it up.). Stylish decor aside, Fucking Place also prides itself in its selection of music. Come hang if you're interested about the great indie music scene here in Taipei and want to see what Taiwanese hipsters look like!
OK we know, there are definitely a lot more great bars that didn't make the cut. The petit but super groovy Revolver at CKS Memorial Hall, Beer and Cheese with some of the best local taps in town, the most authentic British Pub in town On Tap, or Pregame where the game of beer pong is hailed as a ritual. One can go on and on as Taipei city has an enormous variety when it comes to choices for nightlife. Our very own PUB CRAWL is a way to start. For more information, simply ask our guides or send us an email to give your own suggestions!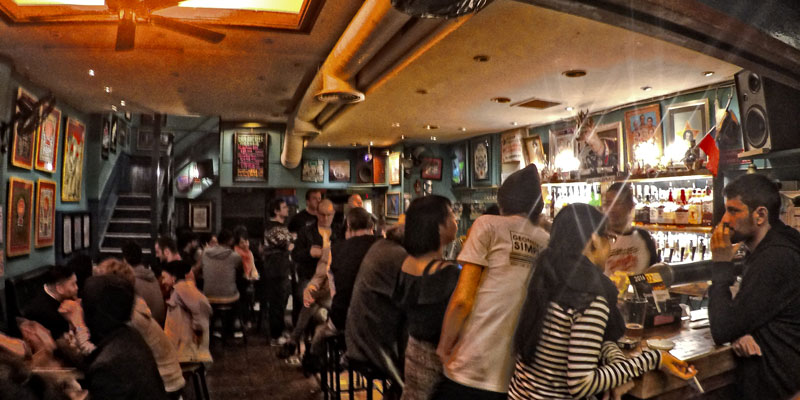 台北住宿訂房:https://monotel.ezhotel.com.tw/2
Taipei Hostel Accommodation:https://monotel.ezhotel.com.tw/2